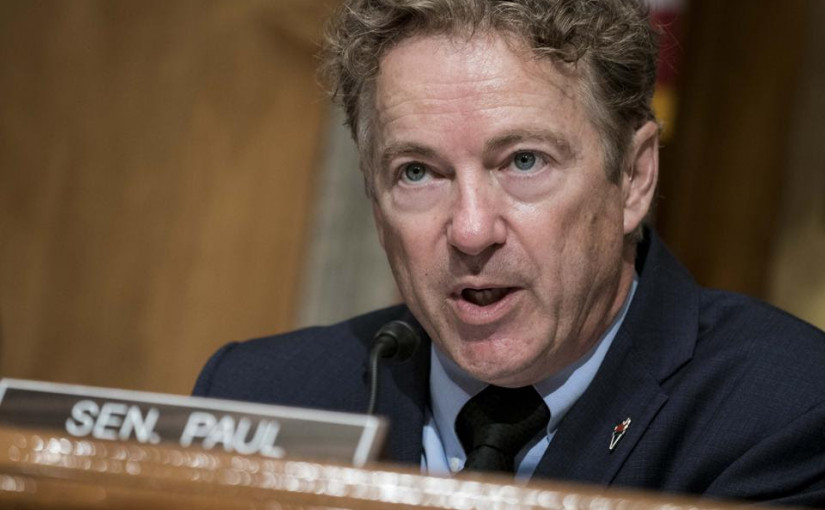 Rand Paul vs. Wuhan Left
Wednesday, August 17, 2022
Senator Rand Paul (R-KY) has been raising alarm bells about "gain-of-function" research since early in the Covid-19 pandemic.
For over a year, public health elites in the United States insisted it was just a coincidence that a deadly coronavirus had cropped up in the same city as China's notorious coronavirus lab.
But the Left's "Big Lie" is crumbling. The evidence not only points toward Covid-19 being a man-made virus created by unethical Chinese scientists in an insecure facility. The evidence suggests Dr. Anthony Fauci approved taxpayer funding for that research!
The only reason we still don't know for sure is that congressional Democrats and the Biden Administration refuse to come clean about where Covid really came from.
The only way to change that is to change control of the Senate and elect true conservative fighters. Sen. Paul said it himself:
"When we take over in November, I will be chairman of a committee, and I will have subpoena power. And we will get to the bottom of where this virus came from."
Democrats don't want to know the truth about Covid-19 – just like they don't want to know the truth about Hunter Biden's laptop, January 6th, or 2020 election irregularities.
The truth can set us free… but only if we uncover it.
Rand Paul, Senator Ron Johnson (R-WI), Eric Schmitt (R-MO), Ted Budd (R-NC), and others are running for re-election to the Senate this year because the American people deserve to know everything the Left and the media and elite institutions have been hiding from us.
Help end the lies and expose the truth. Support the Senate Conservatives with a generous donation today!
You can donate to multiple candidates with one transaction, and SCF will pay all processing fees, so the candidates receive 100% of your contributions.
Our endorsed candidates have been fighting for years against the Establishments in both parties – for limited government and the Constitution, for secure borders and honest elections. Now they're ready to take on the Wuhan Left, too. And we are proud to stand with them in this fight.
Help expose the truth and defeat the Wuhan Left.
The 2022 election will be a bruising contest. The best candidates are the ones who have already shown themselves up for the fight.
That's why we have only endorsed the toughest, most principled leaders in America today. It's not about just about winning an election; it's about getting the truth about a pandemic that did so much harm, the elites responsible for it, and the corrupt politicians who tried to cover it up.
Support Rand Paul and the Senate Conservatives today!
Thank you for considering this request and for doing so much to help fight for America's future. Together, we can expose the truth and make sure this never happens again.